Wave Powered Gravity Pump Project: We are in the early stages of developing down welling wave pump systems to help mitigate low oxygen levels, eutrophication and other problems in lakes, ponds and estuaries. In early testing we were able to pump a million of liters a day of dissolved oxygen rich surface waters to the bottom of lakes using wind driven 2 inch ripple action alone with a 3 meter long Wave Katcher. International and US Patents pending.
Our downwelling Wave Katchers over time improve lake mixing while mitigating the formation of algae blooms and hypoxic zones. In addition our downwelling pumps can create flushing circulation in coves and marinas. No chemicals, power or infrastructure needed and they can be located on shorelines, piers, docks, barriers or moored over deeper problem zones, etc.
If you would like to know more about this project please contact us for more information.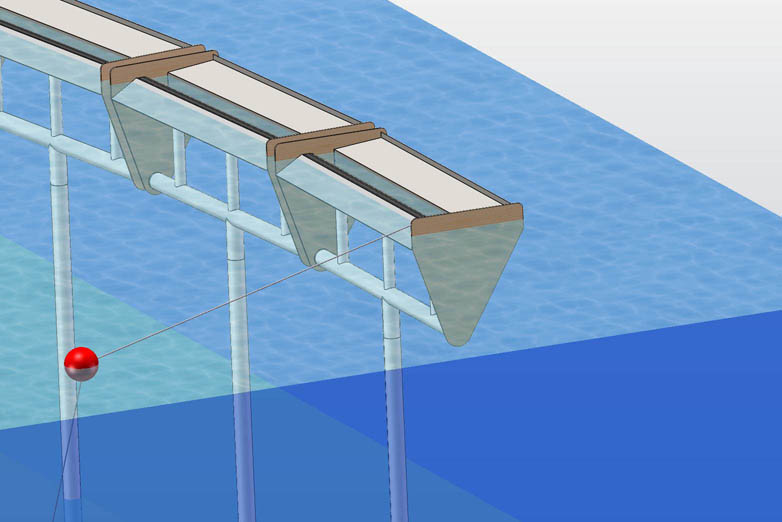 Early prototype being used to verify wave pump effectiveness
PUMPING DOWNWARDS TO PREVENT ALGAE BLOOMS
Poster presentation, IWA 2nd World Water Congress, Berlin, 2001
WAVE - INDUCED DEVICES FOR THE OXYGENATION OF DEEP LAYER: A PHYSICAL INVESTIGATION
EPA HYPOXIA 101: WHAT IS HYPOXIA AND WHAT CAUSES IT?
EUTROPHICATION: CAUSES, CONSEQUENCES, AND CONTROLS IN AQUATIC ECOSYSTEMS
CLEAN LAKE ALLIANCE: LAKE TURNOVER